Tracked 4 songs today. Pretty good progress. Just finished up. I took some photos around the place of some of the cast and crew......

VANGUARD VISITATION. Our label rep Steve Buckingham came in town to visit the studio and see how things were going. He's a good guy, and busy one, as he's teaching a course for U of R next, runs Sugar Hill Records in Nashville (Vanguard's sister label), and is a busy music producer as well (Dolly Parton). He stayed for a few hours and he didn't tell us to start over, so I hope we're doing alright....maybe Dolly will come in and sing...



SHANNON - 2ND ENGINEER. HER MOTHER COOKED US A HAM.



DEVILCAT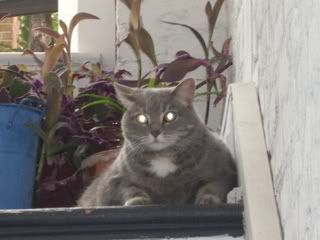 MIGUEL PRETENDING TO READ A BLANK JOURNAL



JONATHAN/JONOTHON/JONOTHAN...."DEAR BARRY, IF YOU DON'T PAY US THE DEPOSIT FOR JUNE I'M GOING TO BREAK OUR AC UNIT"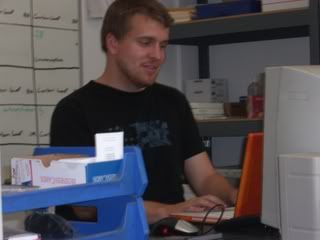 TERRY TRYING TO GIVE THE ROCK POSE BUT I MERELY CAUGHT HIM MID-ROCK, INSTEAD



JORDAN AMONG GEAR



CHIX WITH PIX